Solar screens are designed to shade the opening of a window or patio providing a cooler environment away from the sun and more privacy to your home. They also serve as a transparent barrier between you and the outside. This means that you are protected from unwanted debris, insects, or birds entering your home, while still being able to enjoy the fresh air outside. Solar screens, or roll screens, are a great way to protect patios, porches, decks, and more. Imagine being able to enjoy your outdoor patio without worrying about sun, wind, and pests. Our solar privacy screens ensure you can enjoy your space all year long. Our screens really work!
We also offer commercial solar screens for business use. Our motorized sun screens are just as easy to use for your business as they are your home. 
Are Solar Screens, Retractable Screens, and Window Screens the Same Thing?
At Marygrove, they are! 
Whether you are looking for a solar screen for a patio, a window screen for more shade, or a retractable screen just for ease of use, they are all made out of the same materials and utilize the same functions. So although they are called different things at different places, you can rest assured that you are getting the custom window screen you need through Marygrove.
About Our Exterior Window Shades/Solar Screens
At Marygrove, we don't just offer awnings: we also offer solar screens! Our window shades provide excellent outdoor shade and privacy for your home. Adding one will block harmful UV rays from the sun and help prevent your furniture, drapes, blinds, carpets and rugs from fading. Not to mention, they also act as a bug screen, keeping out all the spiders, insects, and other creatures out of your home. Also known as motorized retractable sun shades, our patio retractable sun screens are easy to use.
Our shades are operated with the click of a button, making for simple and easy adjustment for anyone of any age. 
In addition to providing excellent shade, our sun screens are made using the latest green technology. They are also completely customizable, which means our design experts will work with you to create a solar shade that perfectly fits your window.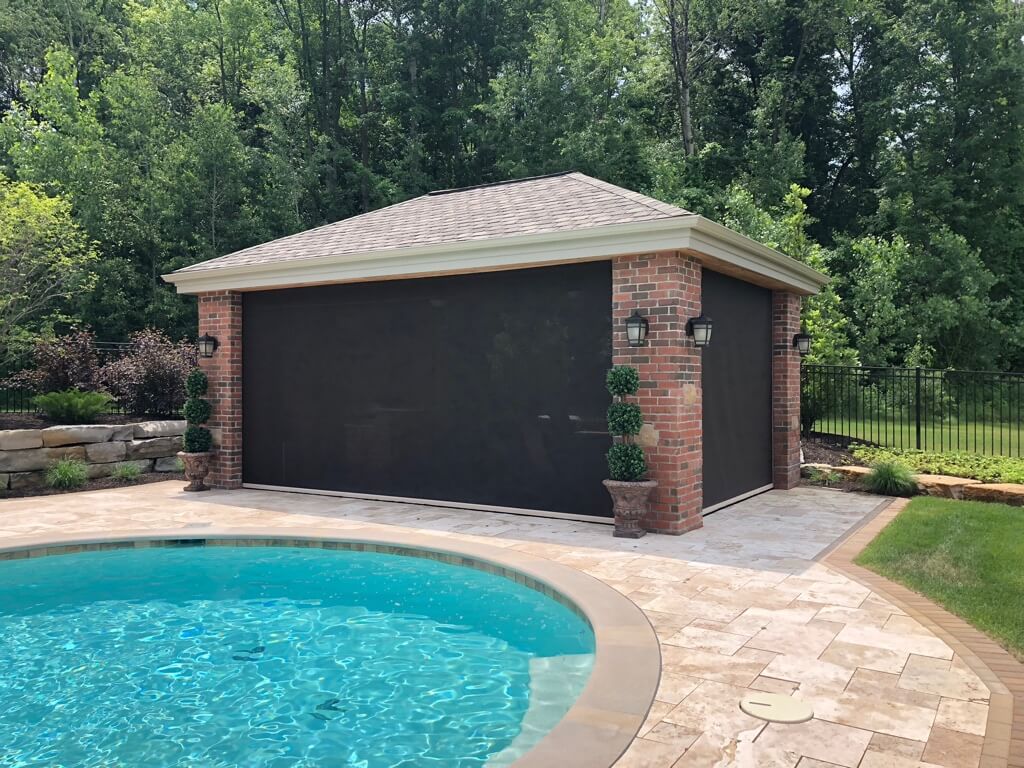 Advantages of Retractable Screens
Thanks to our PVC coated fiberglass properties our screens are designed to block harmful UV rays that could fade your furniture and even your carpet if exposed for too long. This is also the main technology behind keeping your home more private and more comfortable, while still providing clear visibility.
Traditional exterior window screens simply never look good, they block visibility, are a hassle to take in and out, and always seem to get holes in them eventually. However, they are still necessary for many people, as the benefit of keeping out pests that could potentially be carrying a disease greatly outweighs any disadvantage. Retractable window screens eliminate all the disadvantages. 
If you don't want to look at them when your window is closed, just easily adjust them up or down with one hand. It is never necessary to take them out because they are perfectly discreet when rolled up. Lastly, they are guaranteed to out last traditional screens as they never have to endure all types of weather.
Marygrove retractable window screens are easy for anyone to operate and gets rid of the frustration of dealing with stiff and bulky window screens. By using just a click of a button, our remote operated screen can simply be moved up or down with just one finger.
Screens have become more popular in recent years due to an increase in concern of diseases and pathogens coming from bugs or other creatures that shouldn't be in your home. All our screens are designed with a mesh fabric, woven in a grid pattern, stopping all bugs from entering. Blocking sun, bugs, and inclement weather like wind and rain is easy with a roll screen!
At Marygrove, our design experts are more than happy to work with you on creating a solar shade that perfectly fits your windows and openings. Our team will walk you through the process from start to end, listening to your needs and suggesting the best options for you. 
To get more information on receiving your custom fitting and estimate, please call us at 1-866-806-4785 or schedule an appointment.
Our PVC fiberglass fabric is incredibly energy proficient because of its ability to counter hot and cold weather. This could ultimately lead to lower heating and cooling bills due to our solar screens. Also, fiberglass is well known for being durable and built to last for decades, resulting in less waste for landfills.
Features of Our Sun Screens
PVC-Coated Fiberglass Properties
Our sun screens use the latest green technology. We use PVC-coated fiberglass properties which allow our retractable sun screens for your home to block damaging sunlight while you maintain an uninterrupted view. These properties also give your home added privacy since you are able to see out clearly but others cannot see into your home. As part of our commitment to energy-saving technology, Marygrove solar shades have a unique construction that allows excellent ventilation, which keeps your home cooler and more comfortable.
Marygrove's sun blocking screens are completely customizable, so they'll fit your home, yard, porch, or deck. We want to make sure you receive the best product possible, and because of this we are committed to working with you to create a solar shade that will perfectly fit your home's windows or entryways. Our professional design experts will work with you from start to finish, and are able to suggest the best option for your home and provide you with detailed installation plans. If you're wondering how to install solar screens, you don't need to worry; we'll take care of it for you.
How Retractable Screens Work
Once your exterior window screens are installed, we promise you will have no confusion on maintaining or operating for motorized porch sun screens. Using our simply designed remote, you can easily point and click to see your shades ascend and descend on their own. As the screen goes upwards, the fiberglass fabric neatly retracts around itself leaving a seamless look no matter their position. Rolling up your screen is simple. Click the button, and watch your screen roll up. 
We have designed our remote to be accessible by everyone! No matter your age or technology savviness, we are confident that you will enjoy the ease of using Marygrove retractable screens for sun and wind. Our friendly team will ensure that you are familiar with the functions of your solar screens prior to leaving the install and we are always more than happy to answer any questions afterwards.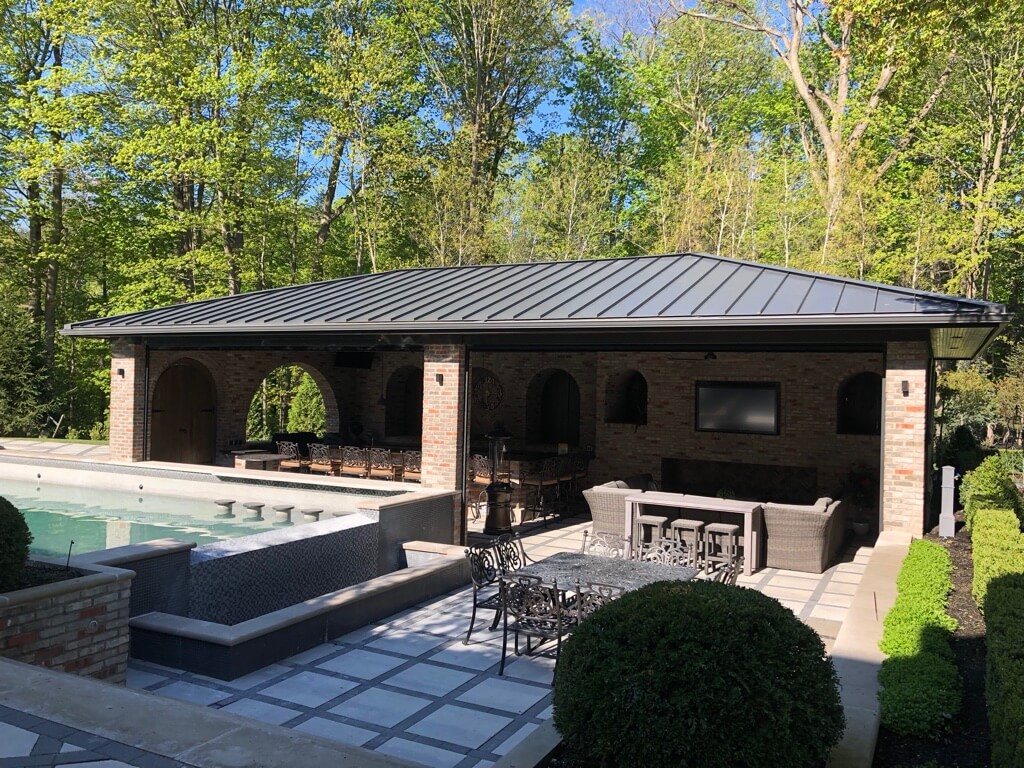 Frequently Asked Questions about Solar Screens
Apply online or work with a Marygrove Awning representative to find convenient payment options for your retractable awning, including monthly payments.
*Subject to credit approval. Apply Online.