Are you looking for the best awning options for restaurant owners? Here, we'll cover everything you need to know about awning options for restaurants and the many benefits of restaurant awnings.
You'll also learn about what Marygrove Awnings brings to the table when it comes to restaurant awnings. Why choose Marygrove Awnings for designing your restaurant awning? As a leader among awning companies for the past 80-plus years, Marygrove Awnings is dedicated to providing high-grade, easy-to-use awnings. Additionally, we offer speedy delivery and professional awning installation.
From retractable awnings and window shades to metal awnings and smoking shelters, we design awnings in all shapes and sizes. Are you all set to explore the many awning options for restaurants?
Let's get started!
Restaurant Awnings Offer Many Features and Benefits
There are many benefits to having a restaurant awning for outdoor seating. Firstly, installing a restaurant awning is a cost-effective way to increase your restaurant's seating capacity. Additionally, restaurant patio awnings extend your outdoor seating season, thus helping you generate more income for your business.
Secondly, restaurant awning canopies offer excellent ventilation without sacrificing comfort for guests. Your customers can enjoy the fresh air and gentle breeze while still being protected from harmful UV rays and unpleasant weather.
Lastly, restaurant awnings improve the air quality for your business. Our outdoor restaurant awnings are compatible with our window shades and solar screens, helping improve air circulation for your patrons. Designed with the latest green technology, these rolling screens protect customers from direct sunlight, wind and precipitation while improving air quality and ventilation. Moreover, our window shades will help to keep your facility a comfortable temperature and may cut cooling costs.
Marygrove Awnings offers many awning options for restaurants. From retractable awnings and louvered roofs to metal awnings and smoking shelters, we've got you covered. Contact us to learn more about our awning options for restaurants and restaurant awning design ideas.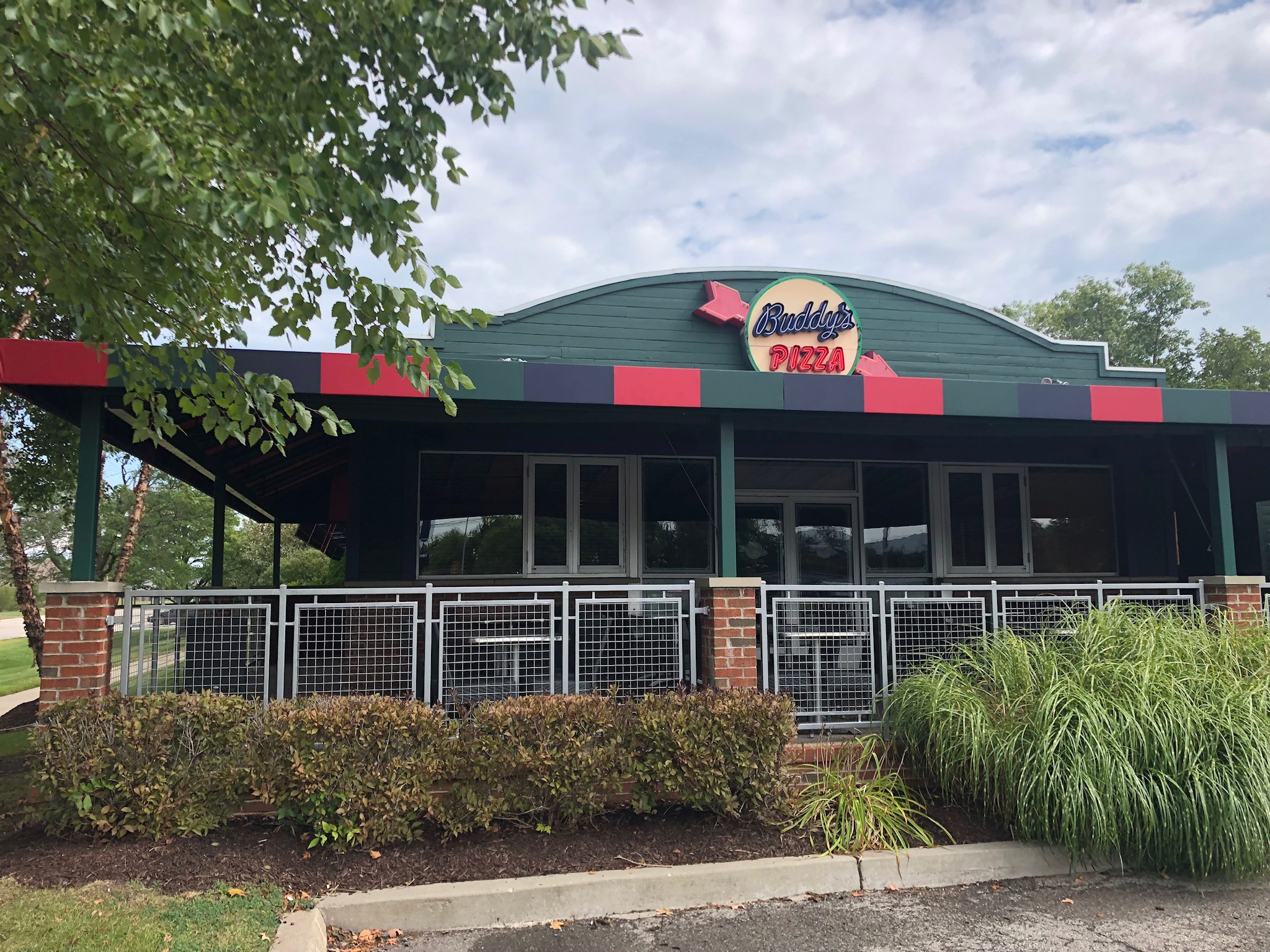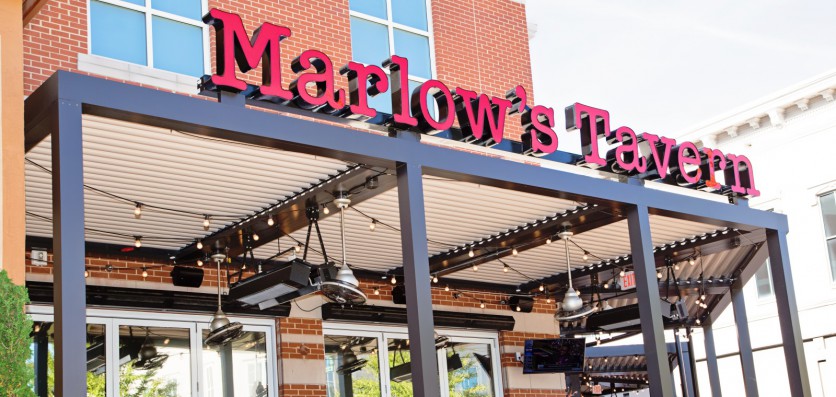 Large restaurant awnings offer many possibilities for restaurant owners. The main advantage of large restaurant awnings is their ability to protect large numbers of customers during the day and into the evening. Because large restaurant awning canopies allow more room for tables and chairs, your business may notice an increase in revenue.
Another benefit of installing a large restaurant awning is that you will stand out among other restaurants. Many customers prefer outdoor seating and consequently may be attracted to your business. Additionally, a restaurant patio awning may improve the visibility of your business.
Whether you already have an outdoor seating space or you're considering adding one, a large restaurant awning is a smart investment for your business. Not only will you attract more guests, but repeat customers will also keep coming back due to your restaurant's pleasant environment. In short, a restaurant awning is an investment quickly returned.
Varieties of Commercial Awnings for Restaurants
There are many varieties of commercial awnings for restaurants to choose from. Each type of awning has its own unique set of features and design options to choose from. In addition to our large assortment of colors, fabrics and patterns, we can customize your awning to fit the needs of your business and help it stand out on your city block or along a busy road.
Below, let's take a look at the many awning options for restaurants that we offer.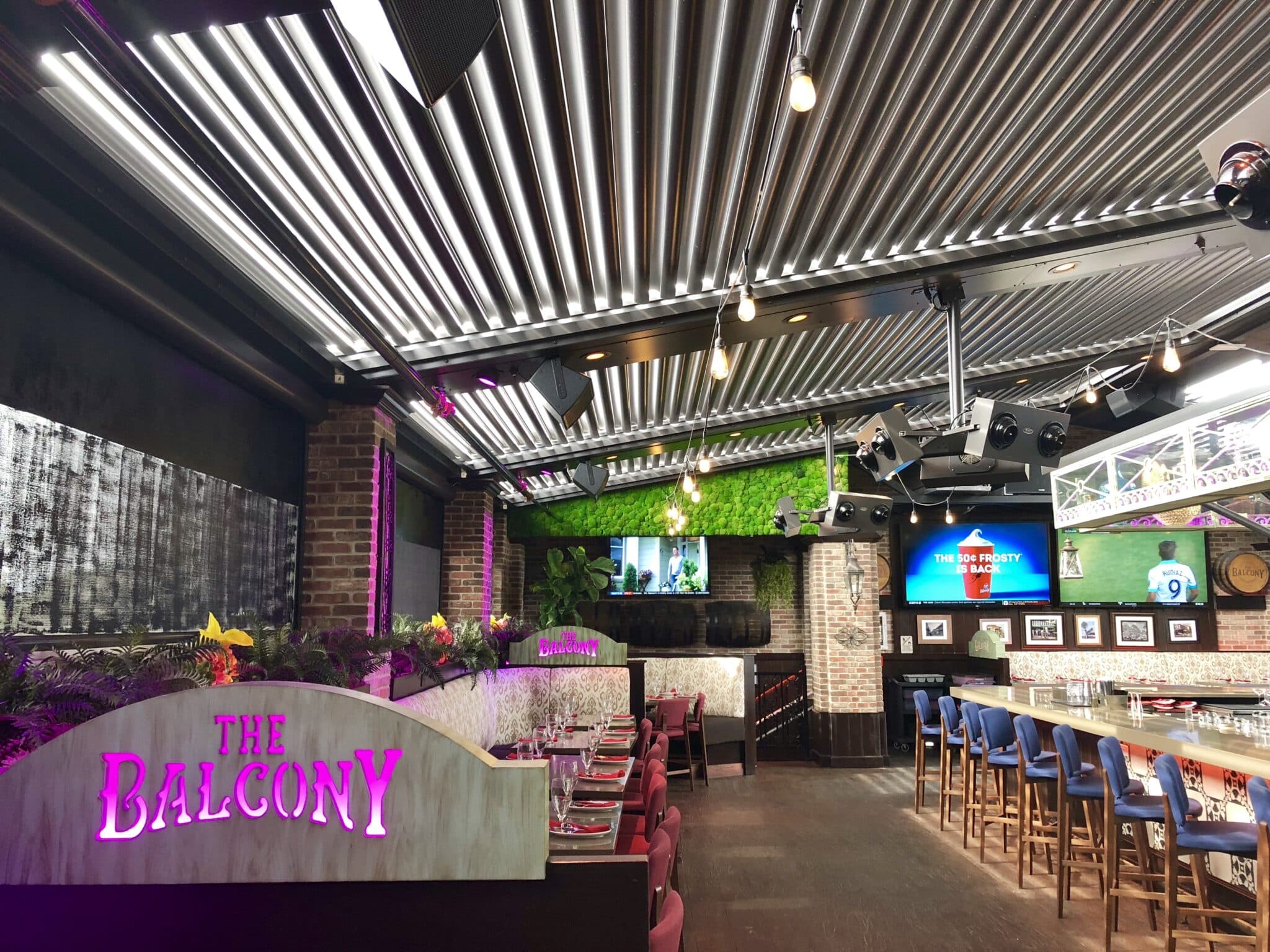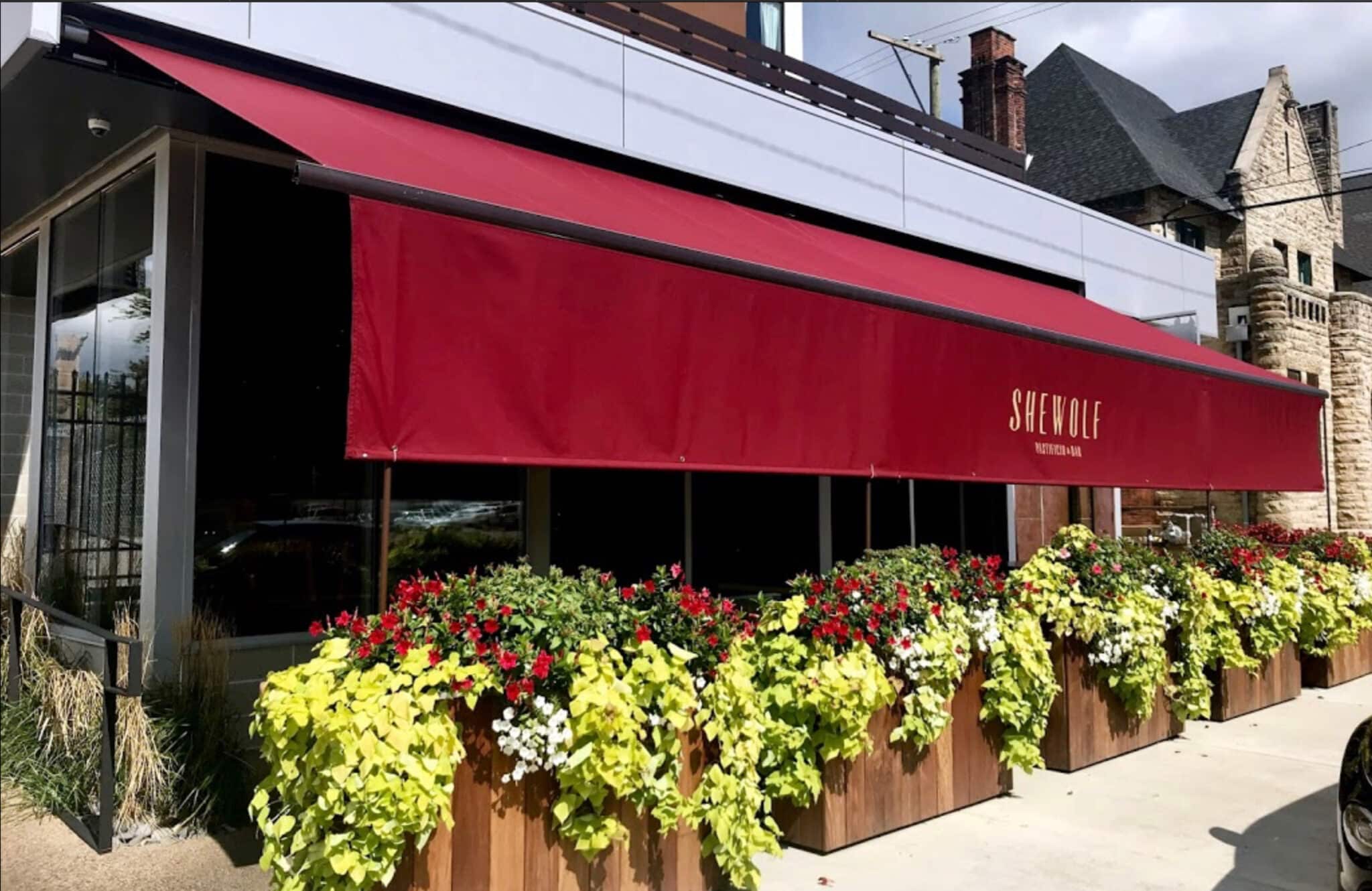 Restaurant Storefront Awnings
Want to boost your curb appeal and improve your restaurant's visibility? Look no further than our restaurant storefront awnings. There's nothing like a good first impression for businesses, and this is why it's extremely important for your restaurant to stand out. Not only will new customers be lured in, but a storefront awning makes your restaurant easier to find for first-time and out-of-town guests.
Marygrove's restaurant storefront awnings are available in a range of designs. We offer custom frame options and exclusive fabric selections to make your restaurant awning as professional and enticing as possible. Contact us to discover restaurant awning design ideas for professionally advertising your business.
Metal Standing Seam Awnings for Restaurants
Keep customers dry and protected from the elements upon entering your building with a metal standing seam awning. In addition to sheltering guests from inclement weather, metal standing seam awnings eliminate safety issues with wet umbrella messes. Moreover, metal awnings improve the visibility and appearance of restaurants.
Metal standing seam awnings for restaurants are low-maintenance and extremely durable. In addition to our plethora of widths, gauges and color options, the Marygrove Awnings team can custom-design a metal awning to coordinate with the facade of your restaurant.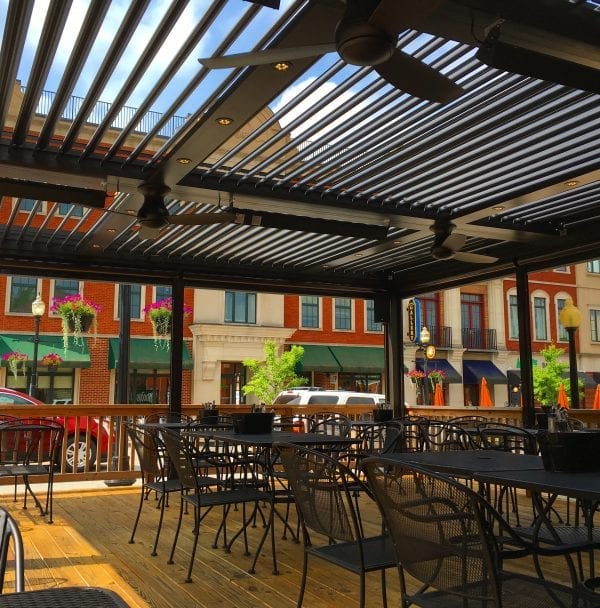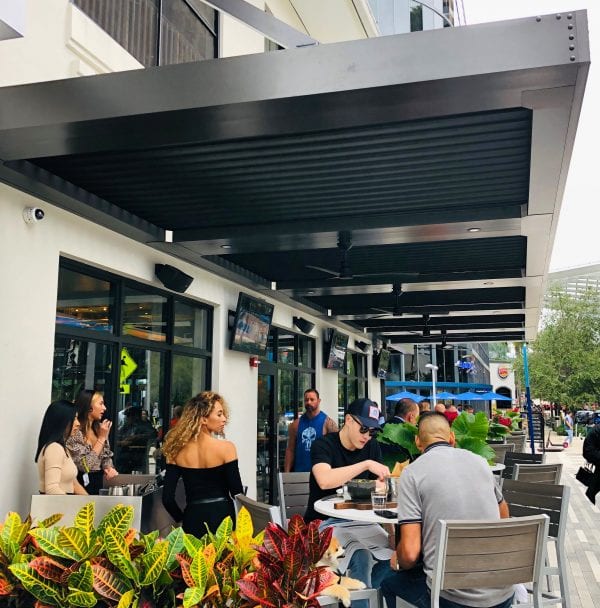 Restaurant Louvered Roofs
Increase your restaurant's visibility and attract more passersby with a louvered roof system. Also called retractable pergolas, restaurant louvered roofs open a world of possibilities for your establishment and heighten the dining experience for your patrons. Built with slats and louvers that rotate 180 degrees, Marygrove Awnings' louvered roof systems are extremely versatile. With just the push of a button, the louvers can be adjusted to continually shield customers from blinding sun rays and harsh weather.
Our louvered roofs are equipped with many special features, including an easy battery-operated system and automatic rain sensors. Additionally, fans may be installed to the louvered roof beams to keep customers comfortable at all times.
Retractable Awnings for Restaurants
Retractable awnings for restaurants are a great choice for restaurants wanting something versatile and easy to operate. Our retractable awnings are equipped with many features, including an adjustable pitch that shields customers from the sun's damaging rays and blinding glare.
Available in an assortment of colors, we can match your awning with the color scheme of your restaurant. Having trouble finding a retractable awning that fits your exact needs? No worries! We custom design retractable awnings for restaurants to precisely fit the needs of businesses wanting a special look and feel. Contact us to learn more about our retractable awning options for restaurants.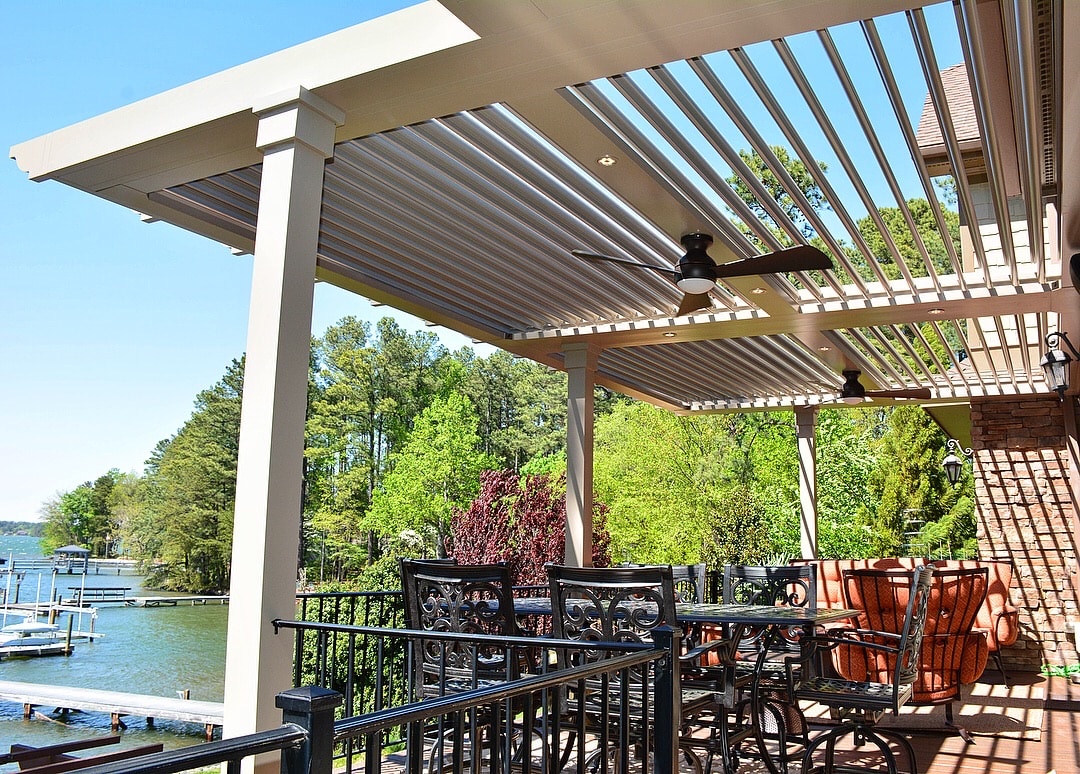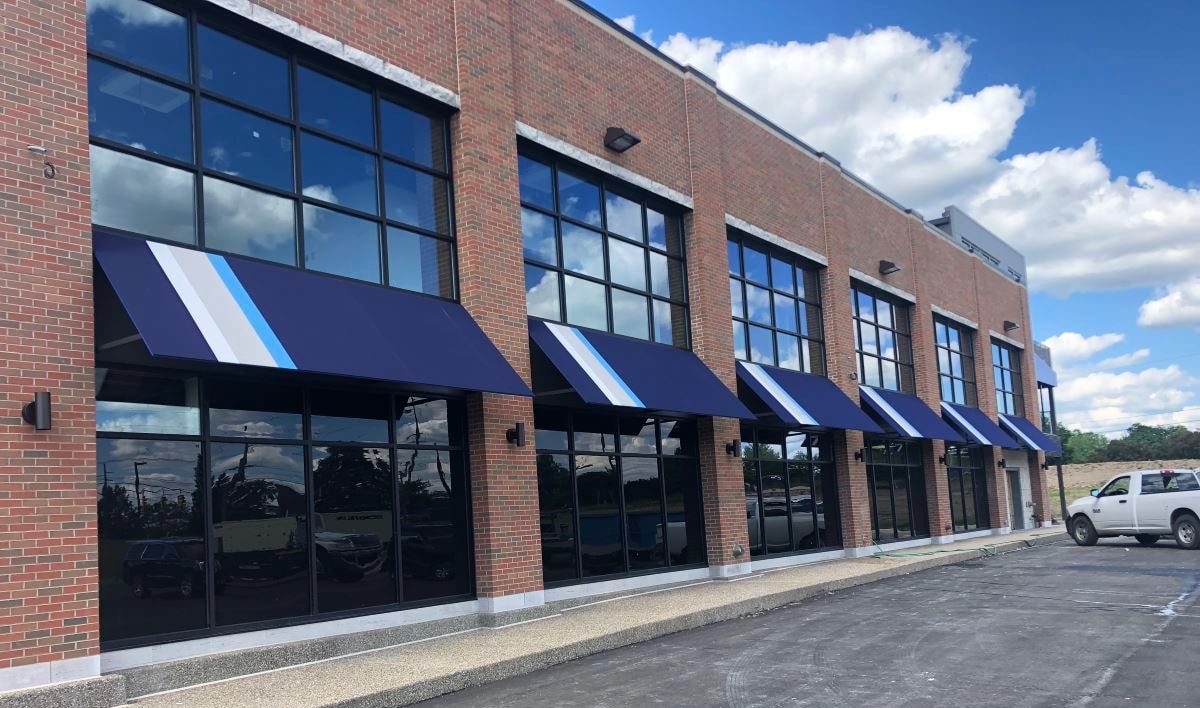 Window Shades and Solar Screens for Restaurants
Want to expand your outdoor seating season and capacity? Consider having us install window shades for your establishment. Also known as solar screens, window shades for restaurants offer full protection from the sun while allowing air to freely circulate.
Our window shades and solar screens for restaurants are designed with the latest green technology. Operated with just the click of a button, our window shades are extremely easy to use. They make an excellent addition to restaurants of all sizes, whether you're operating a quaint café with sidewalk seating or full-scale restaurant.
Restaurant Smoking Shelters
Shield customers and employees alike from inclement weather as they smoke with a smoking shelter. Restaurant smoking shelters are structures that house individuals as they smoke. In addition to sheltering them from the elements, smoking shelters prevent smoke litter from escaping and creating a negative impression of your business.
Marygrove Awnings' smoking shelters are available in a variety of shapes and sizes. From small huts to large buildings, we can create a custom smoking shelter that fits the needs of your business.